Sell With NextHome Lifestyles
The Home-selling Experience
From your first conversation with us to the moment the proceeds from the sale of your home are in your hands, we take care of every aspect of the process. We are at your service as professionals and specialists on every scale, across marketing and advertising, technology and storytelling, presentation and documentation.
We know how, when, and where to best capture and convert buyer attention toward your home. Combining the latest technology and marketing strategies, we personalize the experience for you and your property.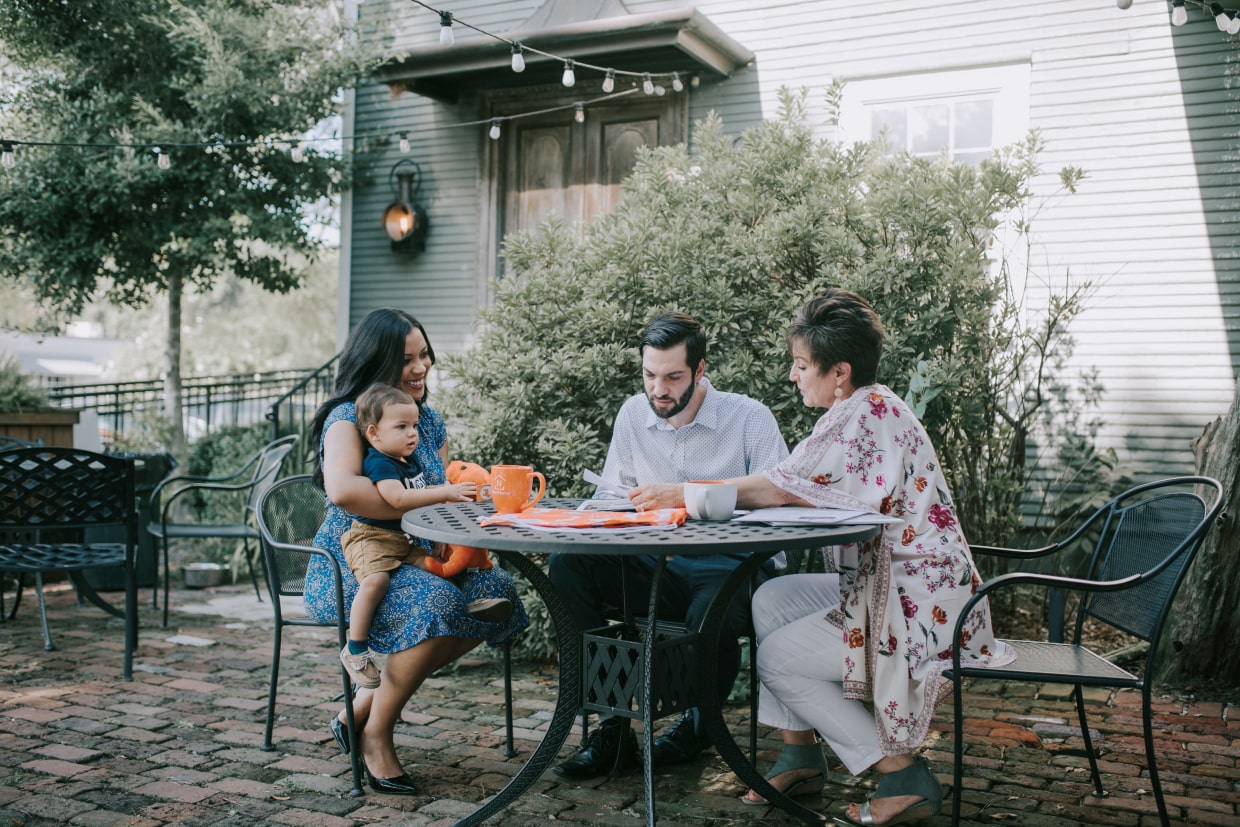 Selling Your Home, the NextHome Way
Our Listing Services
Using our system, our NextHome agents have consistently achieved shorter days-on-market, and higher sales-to-list price ratios when compared to the methods of traditional real estate marketing, meaning our clients can expect the most amount of money in the least amount of time with the least amount of hassles. Plus, our Lifestyles Listing Services is truly a turn-key listing experience as our agents can manage and oversee every step of the process from home preparation to marketing execution, and from contract negotiation to closing, and beyond.
1. Expert Market Analysis
The real estate market, just like financial markets, fluctuate in value on a daily basis. Only after an in-depth analysis of current market data and external influencing factors can your Realtor® assist you in determining an optimal strategy for pricing and positioning your home for a successful sale. However, most traditional real estate agents merely factor in the most recent comparable sales without even considering the reason why those homes may or may not have sold at a specific price before recommending a pricing strategy.
At NextHome, our expert data goes way beyond the traditional comparative market analysis (CMA) as there are many additional influencing factors such as buyer demand trends, interest rate fluctuations, seasonal inventory trends, market absorption rates, and many more that can have a dramatic effect on the timing and execution of your home sale. We account for these external influencing factors through a full evaluation of market conditions before recommending a specific pricing strategy in order to ensure we're best positioning your home to receive the highest price expectation possible.
Additional influencing factors and variables that can impact the positioning of your home in the market may include:
Leading Economic Indicators
Seasonal Inventory Trends
Listing Price Trends
Market Absorption Rates
Foreclosure and Mortgage Default Rates
Rental Market Trends
Availability of Housing
Local Job Economy
Area Commute Times
Mortgage Rates and Program Availability
2. Differentiation
At NextHome, we recognize that home shopping is both a visual and emotional experience for buyers, which is why we have a clear plan to follow that focuses on creating distinct differentiation for the home's that we market for sale. Beginning with a full home evaluation, and based on the most likely target buyer, your NextHome Realtor® will recommend the best course of action for preparing it for sale, from simple cosmetic updates to the final staging touches, all deliberately intended to provide both an advantage over competing homes for sale, as well as the outcome of a more predictable sale.
Added, every client has specific priorities whether relating to the timing of their sale, home preparation considerations, moving and living arrangements, or other personalized service preferences…plainly said, there can be a lot to do when getting your home ready for the market. So, combined with our commitment to provide all "best in class" services from our contractors to our staging and marketing teams, our detailed oversight and project management skills will help minimize the amount of work, and time, you have to spend preparing your home so that you can concentrate on more important things such as preparing your family for the upcoming move.
Get maximum differentiation for your home by ensuring that your Realtor offers the
following:
Expert Staging Advice. Access to professional interior designers who will consult with you to determine the best plan for improving the cosmetic details of your home through full or partial staging services, and based on real market research rather than opinions
Cosmetic Update Analysis. Our designers will also share ideas on how to quickly enhance the perceived value of any home with strategic and practical home improvements that result in largest increases in value; plus, through our network of service providers, we'll help arrange and manage the work
Professional Pre-Inspection. We'll recommend the most pertinent property inspections be completed prior to listing your home to the market; this will allow you time to handle any repairs prior to listing, provide you more negotiating leverage, and will encourage prospective buyers to submit their highest and best offers
Home Warranty. We'll make sure that your home is covered by a home warranty right from the time we begin working together, all the way through the closing of your sale; this will provide coverage for your home's major appliances, including smaller repairs often turned up on home inspections, in order to save you additional unforeseen expenses during your sale; and, offering a home warranty with your home will help instill additional confidence in any prospective buyer.
3. Marketing
While the traditional real estate marketing strategies, such as placing a sign in the yard, creating a flyer, hosting an open house and listing the property on the Multiple Listing Service are still important, they simply do nothing to add value or increase the ultimate sales price of the home. With the home buying process being such an emotional experience, modern real estate marketing should focus on creating an experience for prospective homebuyers, both encouraging curiosity and enhancing the perceived value of a property.
At NextHome Lifestyles, we push the boundaries of traditional real estate marketing. We're passionate about curating marketing collateral that is highly appealing, and we have developed a specific marketing approach that combines high-end professional marketing presentations with innovative technologies. Because we know that telling a good story, and showing a home in its best light is key to generating higher interest levels amongst those looking to purchase, which ultimately translates into the highest possible sales price in the least amount of time possible!
This is why we allocate a significant portion of our commission to proven marketing systems that combine visually stunning presentations with innovative technologies, in order to generate the most interest and the largest number of qualified showings. Just check our sales statistics and you'll see how our customized marketing plans generate outstanding results that prove that the way a property is presented in person and in advertising, will directly impact the success and profitability of a sale.
Beyond the traditional real estate services, our marketing packages will also include the following:
Full Home Staging Services & Interior Design Advice
High Resolution Professional Photography
Aerial Drone & Twilight Photography
Agent Guided High-Definition Video Tours
Lifestyle Video & Community Tour Options
Aerial Drone Video
High-Gloss Double-Sided Brochures
Dedicated Property Promotion Websites
3D Interactive Virtual Tours
2D Floor Plan Renderings
Premium Sign Posts & Sign Panels
Property Detail Sign Riders
Mega Open House Strategies
Neighborhood Promotional Activities
Weekly Marketing Activity Reports
Let us show you how a customized marketing plan for your home predicated on the curation of rich digital and print media highlighting its unique characteristics leveraged with the power of the internet, as well as our industry networks, will further differentiate your home from the competition.
4. Exposure
Exposing your home to the largest number of qualified buyers ensures you will get the best possible price for your home. But, only after we understand today's buyer; who they are, what they are looking for and how they shop for real estate, can we ensure that we implement a promotional plan for your home that is most likely to reach our intended audience. Picture a fisherman casting a really wide net, but making sure the net is deployed in an area likely to be active with fish.
At NextHome, we know that today's homebuyers begin their search online and use the Internet to preview homes, which is why we offer a modern approach to creating sweeping internet exposure through the power of our National Listing Distribution and Syndication program giving your home unparalleled exposure on all the top homebuyer searched websites (over 800 at last count). Plus, our preferred advertising partnerships with the top-5 searched consumer websites will provide your home's internet listing with "Featured Listing" status, catapulting your home to the top of search results and translating into as much as 500% more internet views!
Adding to our already powerful platform, NextHome further offers an in-house system to unite the tried-and-true Open House with cutting-edge technology. Through a proprietary open house syndication system we are able to send our scheduled open houses to national websites who display showing times and information. This guarantees higher levels of buyer traffic during our open houses, and combined with our sweeping internet exposure, will place your home's listing well ahead of the rest.
As the old saying goes, "It's one thing to be on the Internet, it's an entirely different thing to be found." Here are the top ways we will promote your home to the masses:
Sweeping Internet Exposure to 800+ websites through our National Listings Distribution & Syndication program
Featured listing status on top searched websites (Zillow, Trulia, Realtor.com, Homes.com, Yahoo-RealEstate)
Open House Syndication platform
Social Media Campaigns through Facebook, LinkedIn, Instagram
Email blasts to thousands of local real estate agents and industry partners
Neighborhood promotions including Just Listed postcard-blasts, door hangers, catered neighborhood open house, broadcast phone communications
Mega Open House Strategy
Weeknight Twilight Tours
Local broker marketing meetings and tours
Strategic Coming Soon campaign to increase exposure before your home even hits the market
5. Buyer Attraction & Industry Cooperation
While traditional listing marketing methods including flyers, yard signs, and listing the property on the MLS to expose your home to the market, all of these tactics rely on a buyer coming across your marketing and finding your property. Conversely, at NextHome Lifestyles, we implement a targeted, and proactive approach to advertise your home for sale through the most expansive and effective media channels possible.
Through our buyer attraction strategy we actively promote your home with targeted pay-per-click advertising campaigns, retarget marketing campaigns, email campaigns, local real estate networking, and buyer database campaigns. Combined with our traditional neighborhood postcard blasts, email campaigns, open houses, broker tours, and twilight tours, we can ensure your home receives the highest levels of exposure, significantly increasing property showings, buyer traffic during open houses, and opportunities to receive offers from well-qualified buyers. Plus, all of which are tracked and measured so that our home sellers will always have transparency through our efforts!
Targeted Pay-Per-Click Campaigns. through custom pay-per-click Google Adwords campaigns, we will advertise your listing in Google, across YouTube, and browser-based advertising channels that will populate advertisements across well visited websites such as Forbes.com, WallStreetJournal, CNN.com, Yahoo.com, & more
Social Media Marketing. taking advantage of the power of Facebook, Instagram and LinkedIn, we can double-down on our targeted advertising promotions
Retarget Marketing. additionally, we will re-target interested website visitors by using cookies & pixels to continue advertising your property across browser-based advertising channels
Buyer Database Campaigns. cross reference your listing against our database of active buyers we will proactively market to them via phone, email and text
Cooperating Realtor® Campaigns. We'll proactively promote your listing to local cooperating buyer's agents most likely to have buyers already searching in your neighborhood
Buyer Responsiveness. We have systems in place to ensure quick and immediate response to all direct inquiries on your listing, and a team of agents available to provide immediate showings to qualified buyers
6. Expert Negotiation
When it comes to negotiations you may picture a scene from the television show "Millionaire Real Estate Agent," where agents absurdly negotiate million-dollar contracts over the phone within minutes…well, let us burst your bubble as this is not a reality. Negotiations, as you may be surprised to learn, start way before a home seller ever receives an offer, let alone do they merely take place over the phone.
At NextHome Lifestyles, we recognize that a sound negotiation strategy is an extremely important variable that can impact the final amount of equity you receive from the sale of your home. Regardless of how well a home is positioned in the market to attract the perfect buyer, buyers will always be inclined to order their own inspections in an attempt to negotiate for repairs or price reductions. Therefore, hiring an expert who can negotiate an outcome that serves your best interests is of critical importance.
Our negotiation strategies begin well before your home is listed for sale. In addition to our home evaluation, including recommendations for cosmetic updates to increase buyer interest, we'll also complete a series of property inspections in order to uncover and identify any repairs, deferred maintenance or major deal killers. Combined with a fully completed disclosure package all interested homebuyers will have full knowledge about the condition of your property providing them the confidence to make their highest offers, and protecting our home sellers from repair requests or price negotiations after ratification of an offer. Enhanced by our pricing and marketing strategies, our home sellers have powerful leverage in negotiations.
Negotiation strategies often recommended by a NextHome Realtor® may include the following:
Recommending popular cosmetic updates that can significantly increase buyer interest in your home
Using a professional pre-appraisal to strategically price your home and elicit multiple offers when appropriate
Using pre-inspections to provide confidence in your home's condition and avoid any surprises during the escrow period
Requiring all prospective buyers review and acknowledge all disclosures and reports before accepting any offer for your home
Control agent-to-agent communications and properly set purchase expectations
Providing buyers with a home warranty protection through closing
These preemptive tactics will ensure that you don't get caught off–guard and unnecessarily give up any equity to a Buyer because of surprises in the negotiation process.
7. Execution
How it all comes together…
We have assembled a full team of supporting real estate agents, staff members, local service providers and marketing professionals, all to assist in the coordination and management of over 115-key variables that accompany the home selling process. With so many moving parts and deadlines to meet, having dedicated roles for each phase of the listing process ensures that no details are overlooked.
This allows us to customize the listing process to be as hands-off as our clients would like, and providing our clients with a seamless, concierge-style service experience so that they can concentrate on making arrangements for their upcoming move, while we handle everything from the property preparations to final sales tasks.
Frequently Asked Questions about Selling Your Next Home
If you're anything like us, then we're sure that you have lots of questions when planning for such a large financial transaction as an upcoming home sale. So, we've compiled a list of the most commonly asked questions that we receive from sellers when they're beginning to plan for their sale. Asking the right questions will ensure that you are best prepared, and that you're working with a true professional.
How do I sell my Silicon Valley home?
Selling your home in Silicon Valley can be a very overwhelming task. Beyond the mountains of paperwork and disclosures required by both state and federal law sellers also have numerous other considerations to make such as the timing of their sale, home preparations, repairs, pricing strategy, potential title issues, and planning their relocation to name a few. Given the scope of the process, intending home sellers are encouraged to seek out assistance from a local Realtor, attorney, or other professional that has experience guiding homeowners through the listing and sales process.
Although nothing stops a homeowner from taking on the challenges alone, there are many resources and connections that industry professionals can bring to the table to ensure a much smoother experience, not to mention minimizing the marketing expenses and legal liability that accompanies the sale of a home. Plus, not fully understanding the process can put a homeowner representing themselves "pro se" at a huge disadvantage. Studies from the National Association fo Realtors® (NAR) have proven that agent represented sales on average net 6-7% higher sales prices when compared to no represented sales.
How much is my Silicon Valley home worth?
When thinking about selling, your first instinct may be to look up your home's value on the internet. However, determining an accurate value for your home is much more than just looking up your home's Zestimate®. In fact, if you look on Zillow's website you'll see that not only do their valuation estimates tend to be off by more than 20%, but they also state that "there is no substitute for having a local real estate professional provide you with a traditional comparative market analysis (CMA)." In our experience, there are three major influencing factors that need to be considered when evaluating a potential market value for your home, which include a full analysis of the following:
Recent Sales Activity – An analysis of recent sales activity, also known as a traditional CMA, is the strongest indicator of what a current buyer and seller are willing to contract for a successful closing. But, provided timing and changing market conditions, a CMA is always the beginning indicator of potential market value.
Identify Influencing Factors – There are numerous factors to consider when selling your home that can influence buyer demand, including your home's condition, a buyer's willingness to make a purchase, and the price that a buyer is willing to pay for a particular property. Properly identifying these factors will help a home seller determine how to best leverage them through the sale of their home in order to fine-tune their home's potential market value.
Marketing & Pricing Strategy – Probably the most overlooked factor that will impact your home's market value is the implementation of a comprehensive marketing and pricing strategy. The asking price and presentation of your home will affect whether a homebuyer will view it above or below the value of competing homes for sale.
Having a sales strategy that accounts for all three major factors will ensure a successful sale as well as the likelihood of maximizing your home's final sales price. As experienced real estate professionals, we will assist you in determining which factors matter most for your home's unique situation and how to best leverage them in order to achieve optimal results.
How much does it cost to sell my home with NextHome?
Professional real estate service fees, also known as real estate commissions, are negotiable and vary across the industry averaging upwards of 6.0% of the sales price. This fee is traditionally incurred by the seller, payable at the closing of the transaction, and is split between the listing agent and the agent representing the buyer of the property. The portion of the fee retained by the listing agent (the agent representing the seller) will cover their professional services fee, marketing expenses, real estate related supplies, and other various service-related expenses incurred by the real estate agent during the sale of the property.
At NextHome, our agents are innovative and not tied to industry traditions. We understand that real estate commissions can be a large expense when selling, so our agents will help craft a sales and marketing strategy that works for your specific circumstances, charging a professional services fee that justifies their time, effort and results, ultimately providing our clients with more choice and convenience than by traditional means of the real estate industry. We're passionate about saving our clients both time and money through the expertise and professional services that we provide.
What will a NextHome Realtor® do differently to sell my home?
I would say it's three things...1. Passion 2. Strategy & 3. Execution.
First, we realize how a home is perceived by prospective buyers will ultimately determine its value, so we are passionate about creating marketing collateral that is highly appealing through immersive print and digital media such as professional designed and printed property brochures, narrated property tour and lifestyle videos, interactive 3D models and professionally designed promotional property websites. And we do this for every home we sell because we know that telling a good story, and showing a home in its best light are key to generating higher interest levels amongst those looking to purchase.
Second, after selling thousands of homes across Silicon Valley, we have learned that a successful sale always starts with the right strategy which is why your NextHome agent will follow a proven 7-step process for selling your home. Beginning with a full home evaluation, they will assist you in determining the right course of action to take from specific cosmetic updates, to the final staging touches, all deliberately intended to affect the outcome of the sale.
And third, our goal is to provide our clients with the convenience of a turn-key listing experience, so we have assembled a team of supporting real estate agents, staff members, local service providers and marketing professionals to assist in the coordination and execution of our sales strategy. Because, we know that creating distinct differentiation between the home's that we market for sale not only provides our clients with a clear advantage over their competition, but also leads to a more predictable sales outcome.
How much needs to be done to my house before putting it on the market?
Home shopping is both visual and emotional. Buyers are searching for a place to build a life, a family and memories, so the overall property experience from the street view to the back of the home, and every detail in-between will greatly impact their decision to make an offer. At a minimum, decluttering and removing old, damaged furniture would top the list, closely followed by painting the interior and exterior, cleaning or even replacing flooring, updating interior lighting, and landscaping updates. But determining how much you'll need to do will be specific to your market and its current conditions.
Developing a comprehensive plan for preparing your home for sale is one of the most critical steps to take in the home selling process since the appearance of your home will directly impact the maximum dollar you can get in today's market. As part of our Lifestyles Listing Services, your NextHome agent will be able to assist you in implementing the right course of action depending upon the condition of your home, its location, and current market conditions. Plus, our agents can even manage and oversee our team of industry leading professionals, consisting of interior designers, contractors, painters, landscapers, and many more, in the design and transformation of your home.
Is home staging important?
Are you familiar with the expression, "You never get a second chance to make a first impression"? Well, when selling a home, first impressions from curb appeal to interior cleanliness are key to grabbing and keeping a potential buyer's interest, and working with a home staging professional can ensure that your home's best features show in their best light.
Home staging can create focal points, highlight features important to buyers and most importantly, will set your home apart from the competition.
Home staging can seem like a hassle and changes your home from the comfortable, relaxing space it is now, to a more formal show environment. While the cost and process might be daunting, staged homes, in any type of market, sell faster and for more money. On average, a staged home sells 88% faster, and for up to 17% more according to a recent study by the National Association of Realtors®.
Do I have to move out while my house is on the market?
Simply put, "no." Although moving out while your home is on the market will definitely make your life and the selling process much easier, especially if you have children and/or pets, you certainly don't have to move out if you don't want to. Many home sellers make the decision to temporarily relocate when their home is listed so they don't have to worry about keeping it clean and show-worthy for buyers. But, we also work with many sellers that choose to live through the listing phase of their home sale, and you can too. We'll even provide supportive services including the screening of would-be showings and a blueprint for how to prepare quickly for visitors.
Should I sell my home first before I purchase my next home?
You don't have to sell first…it all depends upon market conditions and your financial situation. The path of least resistance would be the reverse, which is to purchase your first home, move into it, and then take your time preparing your old residence for sale. Of course, this is not always possible due to financial constraints, market conditions, or life circumstances, so often having to simultaneously sell while also purchasing is the only way to proceed. However, this path is filled with many opportunities for things to go awry quickly, so having the right professional to guide you through this process will be hugely beneficial.
The best advice we can provide would be to meet with a NextHome Realtor® at the time you're just beginning to have thoughts about making a move-up into another home. During your consultation your agent will help evaluate each phase of your relocation, from determining probable value for your departing residence, financing options for your purchase, identifying your likely target neighborhoods for your next home, and finally, recommending the best timing for your purchase and sale. No matter what your circumstances, the sooner you choose to contact a NextHome agent to discuss your real estate plan, the better the strategy and the better the results you can expect.